ANNOUNCEMENT
"The secret of change is to focus all of your energy not on fighting the old, but on building the new"
-Socrates
Buried History has grown in many ways since its inception as Save the Graves in 2019. The mission, scope of work, and vision have grown, changed, and adapted. To better address these changes the core group has divided into two separate organizations:
Buried History
&
Save the Graves
Each organization, in its own way, will continue to serve the original mission to celebrate, promote and protect the history interred in El Dorado County cemeteries.
Buried History will continue to uncover the stories of poignant figures that 'live' in historic cemeteries all around us with an intent focus on education and community partnerships.
To that end, Buried History is partnering with local elementary schools to tailor a pilot living history program that will bring historic characters into the classroom for students studying California history. These presentations will be the same high quality, well-researched, and meticulously costumed. and professionally written, rehearsed, and performed presentations that Buried History and Save the Graves came to be known for since its humble beginnings.
Buried History is forging partnerships that will bring the same attention to detail to bear for several living history presentations honoring El Dorado County's Veterans who gave the ultimate sacrifice.
Partnerships with local history organizations and societies will see Buried History bringing past and new characters to vivid life celebrating early California and El Dorado County history in multiple upcoming public events.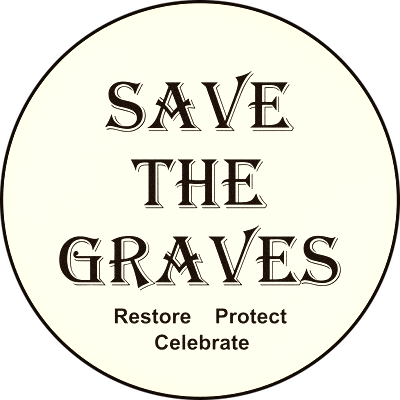 Save the Graves will continue to promote and protect local cemeteries by raising funds to complete direct repair and refurbishment projects in Placerville Union Cemetery and throughout El Dorado County.. To that end Save the Graves will produce the annual Save the Graves event in October at Placerville Union Cemetery.
Save the Graves Mission:
Save the Graves is dedicated to the restoration and protection of El Dorado County Cemeteries and the history contained therein. We celebrate the cemeteries and their history with projects, activities and events which contribute to our mission. Our flagship event is also our namesake, Save the Graves, held each fall in, and benefiting Placerville Union Cemetery.
Save the Graves will continue to produce events and projects, create interpretive materials, and build coalitions on behalf of El Dorado County Cemeteries.
The growth from the original coalition celebrating the history interred in local cemeteries to these two distinct yet complimentary organizations is remarkable and further serves the preservation of local history. Mike Durnerin Education Fund
Bringing interred history into the classroom
Pilot Programs to Begin in 2022
ABOUT
Buried History is committed to the preservation and celebration of the history that lies interred in historic cemeteries.